Keeping it simple ain't stupid.
Good pilots are made, not born. That's why we stress a fundamentals-based education designed for the real world.
Your education should be more than a test endorsement.
While all of our graduates receive an endorsement for their FAA exams, we believe in teaching within a framework of habits and mental models that pilots need in real life. This is not a "set it and forget it" program: it's an introduction to the core philosophies that safe pilots need.
No long lectures.
Our virtual-blackboard videos are short and cut right to the why of the topic at hand, with an average of 5-7 minutes per lesson.
Good news for visual learners:
All students have access to an ever-growing library of 40+ visual handouts, study guides, and "cheat sheets."
Better together.
We're a team of instructors, and each of us is also a professional pilot in a non-instructor capacity: we're airline, corporate, and aerobatic pilots — and more! And while you'll have a single instructor point-of-contact during your course, you have a whole team supporting you!
Learn anywhere you go.
Our modern learning platform is mobile-compatible and accessible anywhere with a web browser and internet!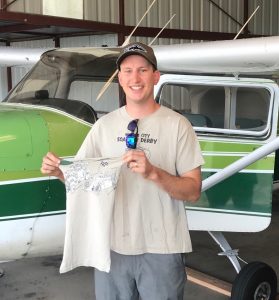 "Flight Apprentice and their easy access approach to online flight training made all the difference for me on my journey to a Private Pilot's Certificate. I am the type of person that typically needs to have information presented to me 4 different ways before I can understand it, but the way Flight Apprentice explains the material made things click instantly. Their handouts/graphics are amazing and their ability to explain difficult topics in common sense terms helped me feel well prepared for my Private Pilot Checkride. I would highly recommend them to anyone looking to start training!"
Blake, Private Pilot