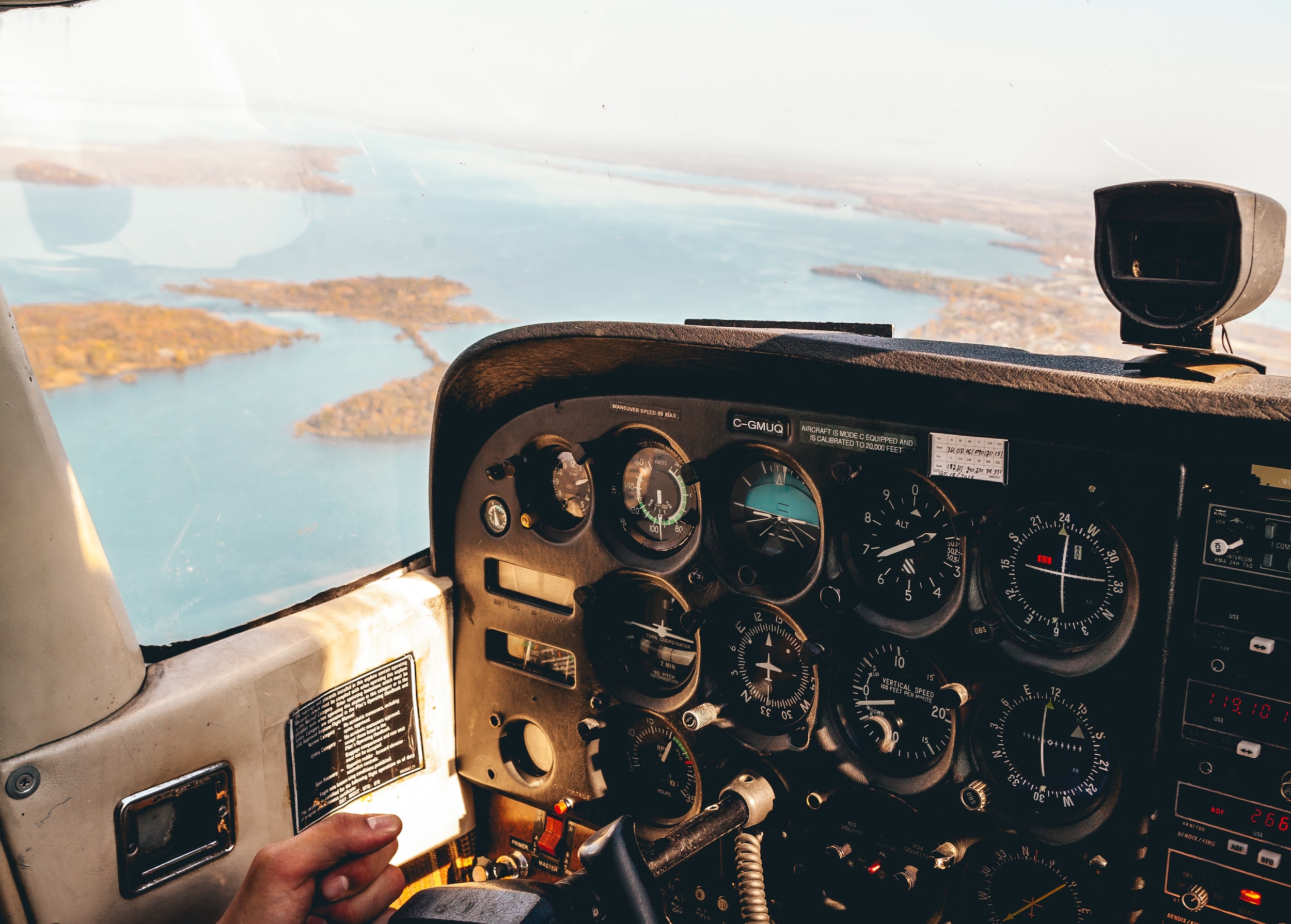 Try the Learner Package free for 7 days!
Get 22% off forever with code "" at checkout.
Limited time offer. Expires ABC XX, 20XX
Course Catalog
Challenging courses, taught simply.
Course Packages
Course packages combine multiple programs, ideal for fast-progressing students on a budget.
Basic
For future pilots who want to make the most of their first lessons.
$33/mo
Pause or cancel anytime.
---
What's Included:
Student Pilot Course
Study with our iOS App
Message your instructor
Full access to the content library!
Learner
For pilots ready to pursue a new certificate or rating. Our most popular package!
$49/mo
7 day free trial. Pause or cancel anytime.
---
What's Included:
All Basic Package Features

Private Pilot Course

Instrument Rating Course

Commercial Course

Multi-Engine Course
Learn with classmates
FAA Test Endorsements
Aviator
For lifelong learners (that like value!)
$573
Lifetime Access.
---
What's Included:
All Learner Package Features

Lifetime access

!!

Enrollment in all future courses

.
Testimonials
"These instructors deliver the sometimes difficult topics with an easy manner. They are pure professionals."
Kelly
Flight Instructor
"Flight Apprentice is amazing! It is simplifying everything."..
Christine
Flight Instructor
"They keep it simple and it's really helping me SO much not to be overwhelmed."
Julia
Student Pilot
"The questions at the bottom of the videos are perfect. It's like questioning my student after I've just lectured."
Chad
Flight Instructor & Airline Pilot
"I'm really impressed with the quality of the handouts. Seriously gold!"
Seth
Commercial Pilot
"The lessons are detailed and thorough yet broken down into small enough pieces where you aren't being overloaded with information"
Alex
Flight Instructor
"There are some complex subjects such as aerodynamics that are broken down well. The program has given me a tremendous amount of knowledge in a short amount of time and I feel well prepared for flight training."
Joe
Student Pilot
"This program excels at breaking down concepts into bite size pieces. Not only did Flight Apprentice help me pass my written exam with flying colors, but the program also made integrating concepts in the cockpit easy and fun."
Chase
Private Pilot
Frequently Asked Questions
What is ground school?

Ground school is the theoretical or classroom-based aspect of learning to become a pilot. In ground school, aspiring pilots learn the knowledge and principles necessary for safe flying, including aerodynamics, aviation regulations, weather, navigation, aircraft systems, and more.

What is online ground school, and how does it differ from traditional ground school?

Online ground school is a web-based alternative to traditional ground school. It allows you to access course materials, lectures, and exams from your computer or mobile device.

What online ground school courses does Flight Apprentice offer?

Our core catalog includes Private Pilot, Instrument Rating, Commercial Pilot, and Multi-Engine. We also offer a course specifically tailored to the Tecnam P2006T.

How do I choose the right online ground school program for my aviation goals?

The #1 goal is to find a program that you'll use consistently. When selecting an online ground school program, consider the course curriculum, teaching philosophy, instructor qualifications, user testimonials, and FAA certification.

What are the advantages of enrolling in an online ground school program?

Enrolling in an online ground school program offers flexibility, cost-effectiveness, and the ability to learn at your own pace. It's particularly beneficial for disciplined individuals with busy schedules.

Are there any disadvantages to using online ground school for pilot training?

Some students may miss the in-person interaction that traditional ground schools offer. Students lacking self-discipline may also struggle to maintain momentum.

Do Flight Apprentice courses prepare me for the FAA Knowledge Test?

Yes. Our courses include the required knowledge, as well as particular test-taking strategies, to help pilots pass their FAA Knowledge Test.

Can I switch from online ground school to traditional ground school during my pilot training?

Absolutely. Training with us doesn't limit your ability to train anywhere else.

Is Flight Apprentice approved by the Federal Aviation Administration (FAA)?

All of our instructors are FAA Certificated Flight Instructors (CFI) and Airline Transport Pilots (ATP) under 14 CFR Part 61.

Is Flight Apprentice certified under Part 141?

No. Our instructors are all graduates of Part 141 programs with teaching experience under both systems. We appreciate many of the advantages of Part 141 programs but prefer the individualized experience we can offer better under Part 61.

What is the difference between Part 141 and Part 61?

Part 61 allows for more flexibility and individualization in flight training, while Part 141 offers a more structured and standardized approach with potentially lower minimum hour requirements. Both paths lead to the same pilot certificates, but the choice between them often depends on a student's learning style, the flight school's approach, and the specific goals of the pilot.

How long does it typically take to complete an online ground school program?

The duration required varies by student, but we estimate 80 hours each for Private and Instrument, 40 hours for Commercial, and 25 hours for Multi-Engine.

Do you offer a free trial?

Yes, we provide a one-week free trial for our Learner Subscription so you can experience our course content before committing.

Do you provide a money-back guarantee for your courses?

Yes, we offer a one-week satisfaction guarantee on all of our courses. It's easy to cancel and refund your purchase if you find the program isn't for you.

Do you provide written test endorsements for FAA Knowledge Tests?

Yes, we offer written test endorsements for the Private Pilot Course (PAR written exam), Instrument (IRA written exam), and Commercial (CAX written exam) to support your FAA Knowledge Test preparation.

Does Flight Apprentice offer a Veteran's Discount?

Yes. We're thankful for the service of our Veterans, many of whom have mentored us over the years. We offer a 10% discount that can be applied when you email us a copy of your Military ID.