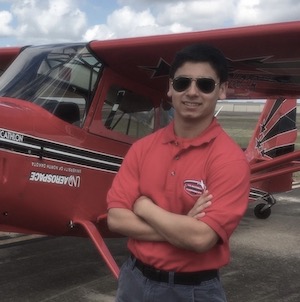 James Jacobson
Certificates/Qualifications
Certificated Flight Instructor -ASEL -AMEL -Instrument; 1000 hours total time including over 500 hours tailwheel experience. Tailwheel experience includes Decathlon, Super Decathlon, Pitts S-2, Extra 300L and 300LX, Luscombe and — his first: Piper J-3.
Availability
James's schedule varies with his commitments to the airlines, but is generally available 1 to 2 days per week.
Experience
James is a flight instructor (CFI, CFII, MEI) with speciality in aerobatics, tailwheel, and upset recovery. From 2016 to 2018, he attended the University of North Dakota where he was an instructor and graduated with a Bachelor's degree in Aviation. While there, he was specifically tasked with teaching students struggling with stick-and-rudder fundamentals. James is dedicated, extremely knowledgable in the subject of aerodynamics, tailwheel and upset recovery, and gives focused feedback that often enables his students to quickly improve their flying.
While attending UND, James was also a member of the competition aerobatic team, earning third place in his Freshman year in the U.S. National Aerobatic Championship Sportsman Category. While still attending, James began to work part-time for the U.S. Extra dealership, ferrying Extra 300L and 300LX airplanes throughout the country and training new owners how to properly fly, care for and respect their new airplanes. In 2019, James joined SkyWest Airlines as a Canadian Regional Jet (CRJ) First Officer. He continues to instruct part-time when home.
When he's not flying low and fast, James is the Flight Apprentice multi-media guru.