Jake Roach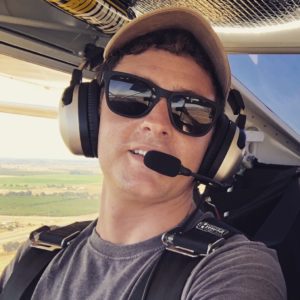 Experience
---
Jake is a cargo pilot on the Boeing 737. He has previously worked for a couple regional airlines and for several years as a flight instructor at the Auburn Municipal Airport in Auburn, CA. He has flown the ATR72 and Dash-8 Q400 turboprops, the Embraer 175, and a variety of light single and twin piston airplanes. He is tailwheel and high-performance qualified. As an instructor, is consistently focused on finding new and simple ways to explain complex topics so that students can keep it all straight in their heads — and actually apply it! He has a Bachelor's degree in Aviation Science from Utah Valley University.
Background
Jake grew up in Sacramento, CA and, like many pilots, always wanted to fly. By the time he graduated high school he was a Commercial Pilot, and started working as a Flight Instructor the same week he started college. For several years, Jake was fortunate to work alongside Andrew — the other Flight Apprentice co-founder — at Mach 5 Aviation in Auburn, CA. While flying together, they discovered and fostered a passion for teaching, which has never stopped. For a few months, Jake also worked as a research pilot for a company on contract with the National Oceanic and Atmospheric Administration (NOAA) — flying unpressurized to 25,000 feet where he collected air samples used in climate and air-quality research.
In 2016, Jake was accepted an exciting offer to work for a regional airline in Honolulu, fulfilling a personal dream of flying inter-island. When that airline went of business, he flew for a mainland regional before deciding to return to Hawaii and fly cargo. Despite his airline career, Jake's real passion is teaching — he gets a kick out of watching new pilots embrace the challenge and thrill of flying and helping them find ways to organize what can often feel like information overload into bite-size pieces that they slowly build upon.
Certificates and Qualifications
Certificated Flight Instructor -ASEL 2700+ hours total time including over 1,300 hours dual given. Type rated in ATR42/72, Boeing 737, DHC-8 and Embraer 175. Tailwheel and high-performance qualified.
Availability
Currently available for ground instruction only. Call or email for availability.